HOME
CSR Activities
DTS engages in a variety of CSR activities as described below.

In order to meet the expectations and earn the trust of our customers and society at large, DTS issued a compliance guide to all its employees and officers. DTS is working towards achieving full compliance with these guidelines.

In March 2002 DTS has earned its "Privacy Mark" certification from the Japan Information Processing Development Corporation (JIPDEC). This certification demonstrates that DTS is an enterprise that properly handles personal information.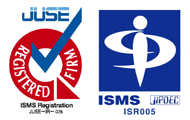 DTS protects important information assets. To maintain the trust of customers, employees, and other parties, DTS earned its Information Security Management System certification in October 2004.

In carrying out our business activities, we at DTS are fully aware that environmental conservation is one of our major social responsibilities. DTS has established an environmental policy and set up an EMS system of our own accord.