HOME
CSR
Environmental Activities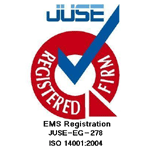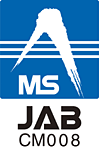 DTS CORPORATION expanded its certification for the environmental management system standard (ISO 14001:2004) to the entire company in February 2007.
ISO 14001:2004 Environmental Management System
Applicable Business Units

DTS CORPORATION: Headquarters, Headquarters Annex, Headquarters Annex II, Shimbashi Center, Shiba Development Center, Chukyo Branch, Kansai Branch

Scope

For the registered organization in all regions: System integration, development, design, and manufacturing, support services, operations planning, operations services, and sales of software developed in-house

Registration Body

Union of Japanese Scientists and Engineers, ISO Center

Applicable Standard Number

JIS Q14001:2004 (ISO 14001:2004)

Registration Number
Date Effective
First Revision
First Renewal
Expiration
DTS Environmental Policies
DTS CORPORATION is aware that conservation of the global environment is one of the most important issues for humanity in common. As a company which has responsibilities for future society, DTS has established the following environmental policies for execution of its business activities (general consulting for information systems, software development, system management, etc.), and is developing its voluntary efforts.
1. Thorough Consideration for the Environment in Business Activities
In order to achieve a recycling society of resource and energy conservation, DTS strives for thorough consideration of the environment in its business activities, and for promotion of pollution prevention and resource conservation activities.
Focus of Efforts
Reduction of resource and energy consumption
Promotion of recycling and reduction of waste matter
Promotion of green purchasing
Provide new social infrastructure which widely utilizes IT technologies
2. Compliance with Legal System
DTS complies with environmental laws, regulations, etc.
3. Awareness Activities
DTS works to enhance understanding of environmental policies and consciousness of the environment by providing environmental education for employees etc., carrying out internal publicity activities, etc.
4. Maintenance and Improvement of Environmental Management System
DTS continually improves its environmental management system, and strives to reduce its environmental burdens.
DTS Environmental Activities: Efforts of offices
In order to achieve a lighter environmental burden "sustainable society" of resource and energy conservation, DTS considers it important that every single employee change their current conduct. The first goal is to reduce environmental burdens by efforts in our nearby surroundings. More than anything, it is thought that an increase in the number of employees with strong environmental consciousness through such activities leads to a faster route to achieve a more "sustainable society". Thus efforts of offices made in some business units were expanded to all business locations from the 2006 business year. DTS is making efforts to reduce waste matter by promoting reuse, recycling, and reduced use of paper and electricity.
Reduction of Electricity Use
There was a move towards casual clothing in the headquarters since the 2004 business year, and in order to support the Ministry of the Environment proposed "Team Minus 6%", COOL BIZ has also been implemented for work outside the company since July 2005.
There was greater consciousness among employees in its second year (2006). Electricity used for air conditioning was cut by 25% from June to September compared to the previous year.
Also, as a result of making efforts through daily business activities such as turning off lights in offices after work hours, and setting the energy conservation mode in PCs, DTS was able to cut total electricity use by about 7% from the previous year.
Electricity Use in 2006 Business Year (as of February 2007)
| | Electricity Use*1 | CO2 Emissions | Compared to Previous Year*2 |
| --- | --- | --- | --- |
| 2005 business year | 1,991,302 kwh | 838.3t – CO2 | - |
| 2006 business year | 1,859,749 kwh | 782.9t – CO2 | 93.4% (down 6.6%) |
Periods before July 2005 are not covered due to lack of data
The CO2 that DTS emits in 1 year is...
The amount of CO2 absorbed by 4,700 trees in 1 year
Reduction in Paper Use
First of all, 2-sided printing and denser printing is promoted, aiming to reduce the amount of paper in daily use. Also, by green purchasing of copying paper, we are working to reduce the environmental burden at the manufacturing stage of paper we use.
Garbage Reduction
Trash bins for individuals were eliminated, and separation trash bins placed in offices, in an effort to reduce the amount of trash finally disposed. Also, boxes are placed on each floor for recovery of copying paper to promote recycling of copying paper.
Other Efforts
Efforts with the community
As a business with offices set up in Minato City, DTS participates in the Minato Eco-Conscious Consortium (mecc) sponsored by Minato City. In the 2006 business year, books, toys, etc. collected by employees were placed via mecc in the local Eco Bazaar, and DTS is helping with the campaign for "Spraying water on the streets and sidewalks to cool down summer heat".
Voluntary Efforts of Employees
Volunteer employees with an interest in global environmental problems gather for activities as the "Eco Forum". Members who cross the barriers between business unit gather, develop active discussions, and exchange opinions.